Slide 1
Exceptional Levels of Care
Slide 2
Long estabished track record
Slide 3
Ethical, Effective, Experienced and Evidence based care
Slide 4
Convenient location with plenty of free parking
Slide 5
Recognised by leading private health insurers
Welcome to Highfield Chiropractic Clinic
Established in 1981, we were Derby's first dedicated Chiropractic practice. Over the years more than 20,000 patients have visited us for treatment.
Highfield Chiropractic Clinic are specialists in the treatment of back pain, leg pain, neck pain, headaches, arm pain and other conditions affecting your body's muscles, bones and joints, collectively known as the musculoskeletal system.
We use an evidence based, conservative treatment approach for conditions that affect the joints, muscles, tendons, ligaments, and/or nerves.
In addition to helping alleviate pain, we try to find the cause of your problem and in doing so, formulate a treatment plan to help prevent future episodes. The modalities we use are based on the latest medical and scientific research, to ensure we provide the most effective care to all of our patients.
The clinic is located on Kedleston Road (corner of Highfield Road) close to the A38, on one of the main routes into Derby. Bus routes pass the clinic, which comprises of ground floor premises with easy access for wheelchair users.
There is ample free parking on Highfield Road and Kedleston Road and further parking on our private driveway.
We have modern and comfortable facilities housing a spacious waiting/reception area, separate private consulting rooms, changing facilities, a resident sports/remedial massage therapist and a specialist spinal rehabilitation gym and Pilates studio.
Our chiropractors are registered with the General Chiropractic Council and are members of the British Chiropractic Association and the Royal College of Chiropractors.
Our patients say…
I first started coming to Highfield Chiropractic Clinic about a year ago for a back problem, upon the recommendation of other clients who have used their services. The standard of care I have received has been exemplary. Every member of staff at the practice whom I have encountered has been polite and welcoming, ensuring confidentiality is maintained at all times. As a fellow healthcare professional, I have been very happy with the care I have been given at Highfield and have recommended the clinic to other friends who I feel would benefit from their expertise.
The treatment I have received over the last 10 years at Highfield has been a life saver for me. I have recurrent episodes of back pain and without my visits for treatment when needed I would have been in constant pain. The staff and chiropractors are so friendly and kind that it is a joy to be treated.
I am in the building trade and this plays havoc with my back. I was recommended to Highfield by a friend and have been using them now for more than 10 years. Every so often my back seizes up and after a few sessions with Highfield I can be back on my feet and back to work. I can't thank the whole team enough for what they have done for me and I would highly recommend them. It's the best money I have ever spent!
The staff at Highfield are always courteous and friendly and the chiropractor's aren't too bad either! Their magic touch had me back playing golf in no time at all after a long lay off.
I have been visiting Highfield Chiropractic Clinic for over 2 years and have always appreciated the friendly, personal service that accompanies the professional treatment.
My chiropractor is amazing. He was so gentle, kind and reassuring as I was a very nervous patient!
Why choose Highfield Chiropractic Clinic?
Exceptional levels of care
Since 1981, we have successfully treated patients from babies to those in their 90s and understand that what's right for one person may not be right for another. In view of this, we provide a package of care tailored to each patient's individual needs.
At Highfield Chiropractic Clinic our chiropractors have combined experience of over 40 years in clinical practice and take great pride in the way they care for their patients, and always endeavour to go that extra mile.
Our chiropractors continually enhance their knowledge and skills, by attending continual professional development courses and seminars. This enables them to pass on this expertise to their patients and deliver first class healthcare.
Our standards of professionalism are second to none and we firmly believe in evidence-based practice; utilising the latest research, 'best practice' and clinical experience.
All of our Chiropractors are registered with the General Chiropractic Council and are members of the British Chiropractic Association and Royal College of Chiropractors.
Long established track record
Founded in 1981, we were Derby's first Chiropractic clinic
We have a long track record of excellent patient care and, over the years, more than 20,000 patients have attended the clinic.
In recent years the value of chiropractic treatment has been demonstrated ever more convincingly, and for over 30 years the services of this clinic have been purchased by local industry and recommended by local GP surgeries.
To hear what our patients say about us, take a look at some of our patient reviews.
Ethical, Effective, Experienced and Evidence-based Care
All our chiropractors have extensive experience and we pride ourselves on providing honest, effective, evidence-based treatment. This means you can be confident that we will put together a package of care that's right for you.
To view some of the research behind evidence-based practice, see our Chiropractic Research page.
Convenient location with plenty of free parking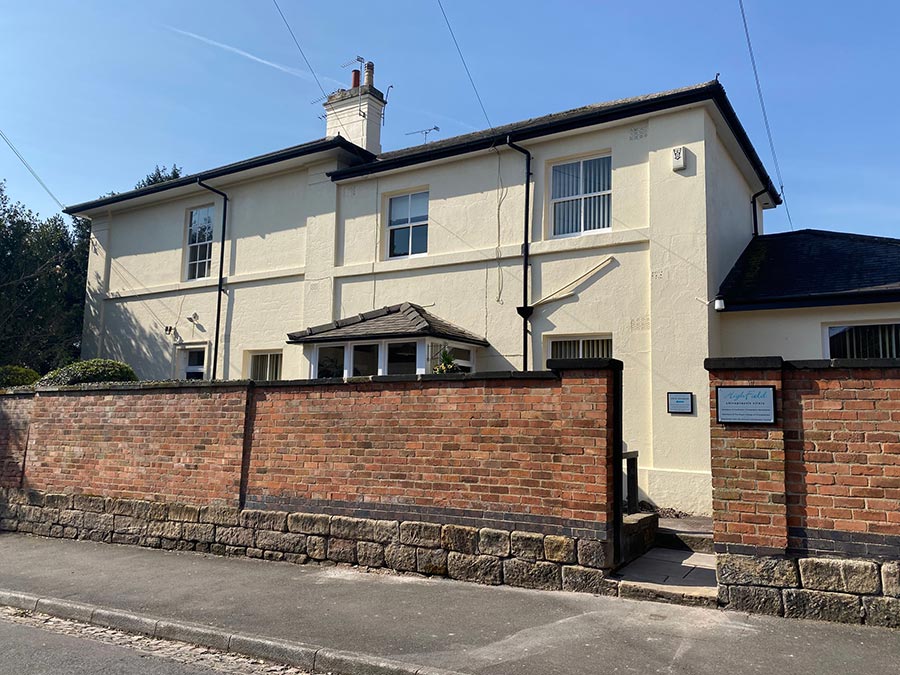 Highfield Chiropractic Clinic,
48 Kedleston Road,
Derby DE22 1GW
Highfield Chiropractic Clinic are located just outside Derby City Centre. We have ample free parking and easy access from Kedleston Road and the City Centre.
We are on the bus route for "The Allestree" and the "Unibus", both of which run every few minutes from the centre of Derby.
Appointment times to suit you
We offer appointment times to suit you and to fit around your work and personal commitments.
Our Opening Times are: Monday – Friday 8.30 am to 6.15 pm
Recognised by leading private health insurers
Highfield Chiropractic Clinic are recognised by most major private health insurers including AXA/PPP, Allianz, PruHealth, Aviva, Simply Health, WPA and Cigna amongst many others.
(Please note that it's always worth checking with your provider before you begin treatment as all policies are different.)